Chocoholics may have to dig deeper to pay for their favorite treat this festive season as sweet makers face sky-high prices for cocoa butter, the special ingredient that gives chocolate its melt-in-the-mouth texture.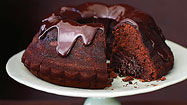 Increased demand from Asia's expanding middle class and a turnaround in sales in big consuming countries have seen butter prices nearly double to more than $7,000 a tonne (1.1023 ton) from $4,000 a tonne six months go.
With supplies tightening and demand showing no sign of slowing ahead of the Christmas and New Year period, some chocolate makers may have little choice but to pass on the increased costs to consumers.
In the secretive industry, which has only a handful of big players, chocolatiers tightly guard the recipes that distinguish their products, and are equally cautious on prices.